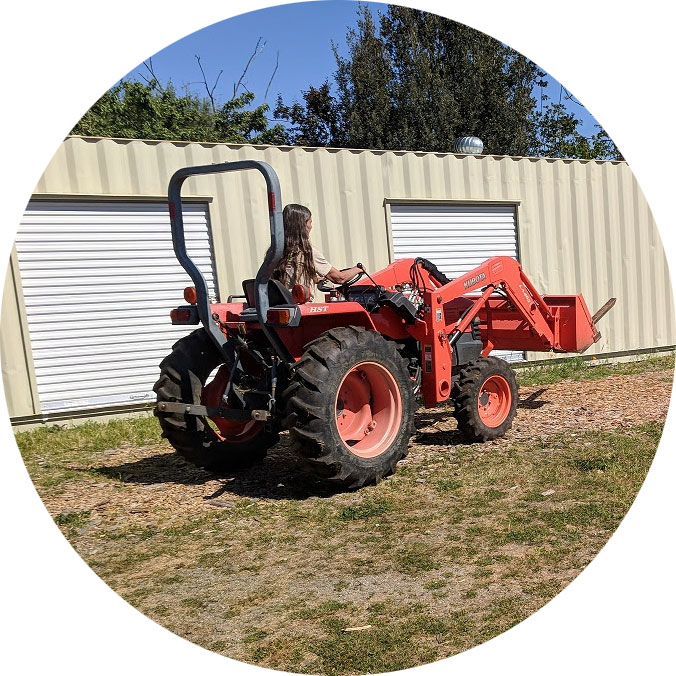 We hope this note finds all well with you and yours in these tumultuous times. Most everything is going well in the garden, except that our little Kubota tractor needs your help.
She needs a new engine to be exact. We are lucky to have Steve, who has volunteered his time and shop to do the engine swap, all we need to do is raise the $5,500 to procure the motor and parts to complete the job.
We set up a donation page here to get Betsy up and running again. We know things are tight for many of us, so please know that every little bit helps. From $5 to $5,000, your generosity is appreciated.
Many of you never get to see Betsy in action. We use her to keep the pasture mowed, the garden fodder chipped, piles of soil moved, and soon to till the expansion of the garden. A few years ago she overheated and we have nursed her along with doses of radiator fluid, until this year when she could only run for half an hour without getting dangerously warm. We took her to the shop in Stockton where they told us the head gasket was blown and she needed block work (refurbishing the cylinders). Their bid was $10,060. Steve and Dave did some shopping and came up with the new engine option at half the price, went and retrieved Betsy, and brought her to Steve's shop where she is now. So that is where we are, and we hope that you can help us get Betsy back in fine fiddle.
With gratitude,
Brenda