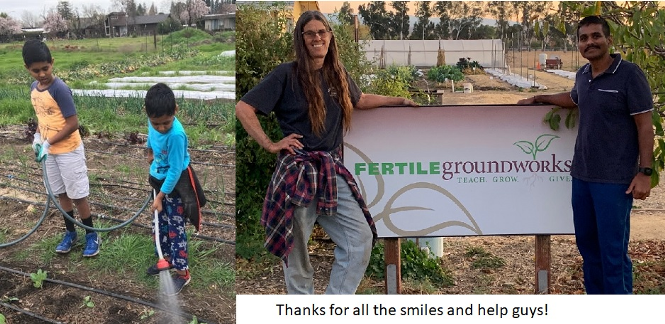 Happy Monday everyone,
The orchard irrigation is in! Many thanks to AC for his planning and leadership and the help of BSA troop #939 and Boy's Team Charity members for all their efforts last Monday to complete this huge task! Jeff at Tri-Valley Landscape has volunteered to help us by augering the holes for the trees that will come in January 2020. GSA Troop #32415 members will be working to do the planting of 101 trees, I am sure they would love all the help folks can give. Oh so exciting!
Great progress was made in the main garden too. Regular volunteers had tons of help from diverse groups of folks last week. Tuesday was a family day with home schooling families joined by moms and little ones from the First Presbyterian Church. The rest of the week teams of financial professionals from Bergante & Co. and Ross came to work in the garden. It was great to unite with fellow spreadsheet lovers taking a break to work the soil. Friday and Saturday we had students from Livermore, Granada,Valley, Amador, Dougherty, Foothill, Bishop O'Dowd, and Dublin High Schools out to help in the garden.
Together we were able to harvest 470 pounds of winter squash, sweet potatoes, and gleaned summer vegetables. So far this year we have been able to give 22,938 pounds of fresh veg to our neighbors in need. THANK YOU!
On top of harvesting we were able to clear the summer crop, weed and amend 1,908 sq. feet of bed space with fresh fertilizer and ~7,200 pounds of compost. Yes, we do use lots of compost. Thankfully MH and Ross folks screened about 1,333 pounds of finished compost thus emptying one of the compost bins that MH and high school volunteers re-filled on Saturday. The compost cycle continues. YAY!
Into the prepared beds we put in 1,600 onion seedlings, now there are about 4,485 of them out in the garden. 260 broccoli seedlings are now in two old pepper beds. We also seeded about 300 garlic cloves into four broccoli beds. The theory with companion planting alliums (garlic, onions, shallots and leeks) with the brassicas (broccoli, cauliflower, cabbage, mustards etc.) and chenopodioideae (beets, chard, spinach etc.) is that the allium species repel the white cabbage looper moth, white fly and other pests. We'll be testing that theory this year. The umbellifereae (dill and fennel) planted amongst the cucurbits (squash, cucumbers, melons) seemed to help minimize the number of squash bugs in the garden last summer, so fingers crossed for a similar effect with garlic and broccoli mixed plantings.
This week we said good bye to Ananth and his boys, regular Friday volunteers for years. It has been a joy watching the boys grow with the garden and we are going to miss them all. We wish them much success in all their future endeavors and schools as they move onto the new season in their lives.
As always, I am indebted to all of you and send you all my sincere gratitude. Fertile GroundWorks could not do all we do without wonderful volunteers like you. You are all truly amazing human beings. THANK YOU!!! for enabling us to TEACH, GROW, and GIVE.
I do hope that you all will be able to come back and see how your efforts helped the garden to grow and change with the seasons.
Until next we meet, please do take care of yourselves. Have a great week!
Happy gardening everyone.
With sincere gratitude and hugs
Brenda